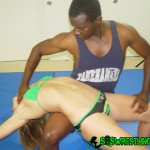 Darrius. If youve followed mixed wrestling, youve no doubt heard of Darrius. Darrius has been all over the web for many years, and is known as being a top notch boxer, and has defeated many top names in the female wrestling industry. But lest you forget…Darrius can wrestle too! He is known for being sarcastic, sneaky, and knows just what to do to catch his opponent off guard. Darrius has recently been named SSS Wrestlings FIRST employee of the year. In testiment to his hard work, training of Ra'id, and dedication to the sport. Whether in a boxing ring, or on the mats, Darrius will keep you entertained and will always give 100%.
BUY NOW on Clips4Sale – $20.99
Ra'id had a vision. SSS Wrestling would be the next biggest thing in the wrestling world. This is the beginning of the SSS story. In this sensational opening match for SSS wrestling, Ra'id called upon the expertise of the notorious mixed boxing phenom Darrius to tag with him against the lovely Julie and the partner of her choice.